The Top 5 Restaurants at Magic Kingdom
I've been running this blog for just over a year now and have decided to finally start writing a new type of articles: lists!  Everyone loves a good list of things.  Whether its restaurants to sample, rides to try, the best drinks to buy, hidden gems you may not know about, or even things you may NOT want to do.  One of the best things at Walt Disney World is its food offerings.  From full service restaurants, whether they be over-the-top theming or signature dining, to quick service restaurants, and from lounges to food carts, everyone has a favorite!  I have multiple in many locations.  I can't think of a better way to start these new articles than to list my picks for Magic Kingdom's Top 5 table service restaurants!
 5) Cinderella's Royal Table
Cinderella's Royal Table is located inside the castle itself on the second floor and serves breakfast, lunch, and dinner with each menu offering different.  For this dining experience, Guests must pay in for their meal in advance and it is a set rate.  With this fee, diners get a three course meal with a non-alcoholic beverage.  The restaurant is a $$$$ listing and can cost $60-$76 for adults, so keep that in mind.  CRT is a true dining experience and one where the food could be considered an after-thought.  Here, Guests will meet Cinderella herself before being whisked away up the stairs to the dining rooms to find their table.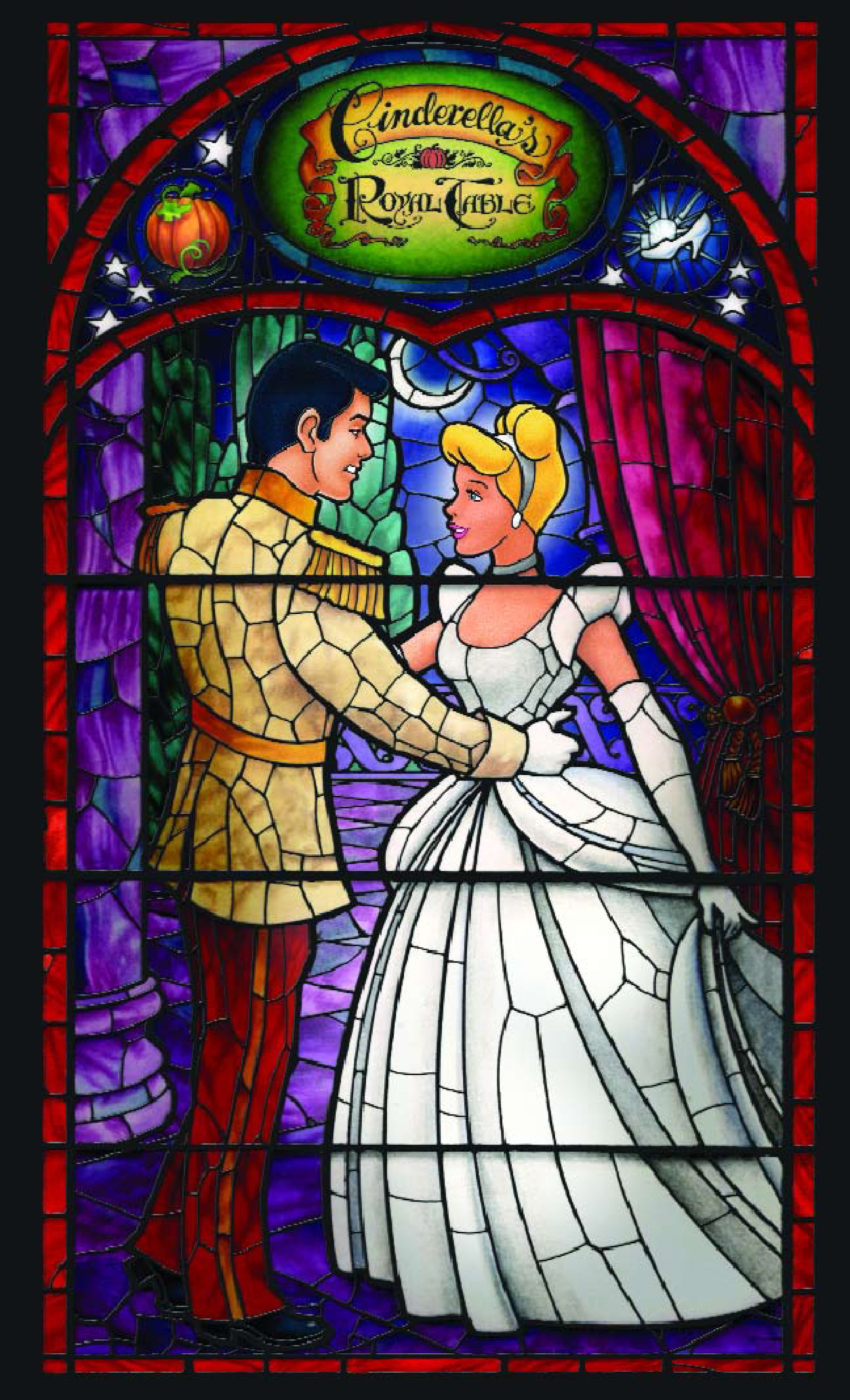 Throughout the meal, Disney princesses come and greet you at your table.  For our dinner, we met Ariel, Jasmine, Snow White, and Aurora.  Each enters with a unique, formal announcement and will then casually stroll through the dining room.  Once dinner is nearing completion, your server hands out daggers/swords for boys and wands for girls. Then all together, Guests cast a magical spell over the dining room.  It is a wonderful experience.
As for the food, which is the real reason behind this list, the server takes your full order all at once – the appetizer, entrée, and dessert – which is really kind of nice, and then each course is brought out once the previous is completed.  In all honesty, the food is good, but nothing spectacular.  You can read our full review of it here. For $75, I want all of our courses to be amazing and want to come back to try other items on the menu. Unfortunately, it never wow'ed us like we were hoping.  What you really pay for is the experience, not that that is a bad thing, especially if you have children with you. But when I go to a Disney restaurant, I really want the food to be outstanding, no matter the price level, so that's why CRT is listed in our 5 spot.
4) Be Our Guest
Be Our Guest opened in 2013 and is located in the Fantasyland expansion.  As you can imagine, you dine in Beast's castle and have the option of dining in three locations: The Grand Ballroom, The West Wing, and The Castle Gallery, which is themed after Belle's private library and decorated with portraits of Belle and Beast enjoying life on the castle grounds.  The restaurant now serves quick-service lunch and table-service breakfast and dinner.  I have been fortunate enough to try both their lunch and dinner.
Be Our Guest's lunch is very unique in that when you reserve your reservation, you then are able to pre-order your entire meal.  Once you arrive and check in, you are given a rose and are able to choose any clean table to sit at.  Soon, your meal will be brought to your table.  The quick service food options are simple but delicious.  It is a nice change of pace from the average burger
& fries or chicken tenders.  And their desserts offer more than just cupcakes and ice cream.
The real test was to see how their dinner is.  This restaurant was supposed to give Cinderella's Royal Table a run for its money and it most certainly does.  As you enter the restaurant, the seater will hand someone in your party a candelabra to light the way.  Once you are seated, you'll see the table is adorned with rose napkins and beautiful glassware.  The menu items and pricing offer the high-end dining without the price of a signature dining restaurant which is nice.  An added plus is, Be Our Guest is the only place in the Magic Kingdom you can order alcohol.  Here, they serve three wines made specifically for this restaurant, as well as imported beers.  If you're a domestic fan, sorry, you're out of luck.   The food itself is good and pretty delicious.  We sampled their soup and desserts as well. The menu has pretty good variety for the diner to choose from, and of course, they have the gray stuff.  Throughout dinner, Beast will be introduced as your host and then meets Guests at the exit of the restaurant.  This is a great way to conclude dinner.  The restaurant is gorgeous and the atmosphere is perfect, again giving you that romantic dinner without the signature dining price. The food is pretty good, but of all the things we sampled, nothing stood out as something we just had to have again.  We decided this would be a restaurant we'd come back to in maybe five years to see if it improves.  Fortunately, we have three more restaurants!
3) The Plaza Restaurant
The hidden gem of the Magic Kingdom! If you haven't even heard of The Plaza Restaurant, it wouldn't surprise me.  It's tucked away right off the corner of Mainstreet U.S.A. next to the Plaza Ice Cream Parlor and is very small.  This restaurant only serves lunch and dinner with the same menu offerings for both.  Here, you can find selections for a light lunch such as salads or the Plaza Club sandwich. Or for a heartier meal, choose the Grilled Reuben or my favorite, the Beef Brisket Onion Burger.  It is bursting with flavor.  You can get French fries or homemade chips, both are well seasoned.  They also serve sundaes and delicious milkshakes.  When we dined here, we were all incredibly surprised by how good the food was.  Don't forget about this restaurant as I'm sure you've walked by it many times without noticing.
2) Crystal Palace
Probably the most known restaurant at the Magic Kingdom, if not second to Cinderella's Royal Table, the Crystal Palace is located right past Mainstreet U.S.A. and serves all three main meals for Guests.  It is also a character buffet with Winnie the Pooh and friends.  The food selection for both breakfast and dinner has a great variety and you'll be sure to leave with a full stomach.  A few notables are their breakfast lasagna and spiced-boiled shrimp for their dinner.  And of course, being able to meet Pooh Bear and his friends makes this a fun meal for Guests of all ages.  I have grown up eating here on every vacation and have never had a bad meal.  Plus, if you time your dinner right, you might be able to see Wishes from the windows while dining.  The Crystal Palace should be a must-do for any 1st Visit Guest to the Magic Kingdom.
Honorable Mention: Liberty Tree Tavern
Who doesn't love a good runner-up? Liberty Tree Tavern is a great restaurant to go to if you're ever in the mood for a nice Thanksgiving dinner.  Located in Liberty Square, the Liberty Tree Tavern serves A la Carte lunch and family-style buffet dinner. Lunch is a simple selection, somewhat similar to The Plaza Restaurant.  Being from Maryland, anywhere that serves a crab and lobster dip is A-OK by me and who can say no to Freedom Pasta?  Dinner is where it's at though.  The three course meal is brought to your table and is all you can eat, family style. Here, you can enjoy Thanksgiving 365 days a year and finish it off with their yummy Johnny Appleseed's Tart: baked apples in crispy pastry shell, cinnamon, dried cranberries, and topped with ice cream.
1) Jungle Navigation Co. LTD Skipper Canteen
Our number 1 pick is the Magic Kingdom's newest restaurant, The Skipper Canteen!  After being open for a few months, I finally had a chance to dine at the new location and it did not disappoint.  You can read my full review here.  The Skipper Canteen places first on our list because it is something the Magic Kingdom has needed many years.  The menu is so different than anything else you can find in the park and is sure to satisfy adults who are tired of the usual fare.  The restaurant is themed to the nearby, popular Disney attraction Jungle Cruise.  The story goes that the skippers just don't get paid enough to captain the boats for the Jungle Cruise, so they also work as servers at the Skipper Canteen.  Here, Guests can be sure to get another helping of fun jokes to go along with their meal.  The restaurant is detailed just as perfectly as Be Our Guest and Cinderella's Royal Table and the menu themed to the story incredibly well.  The menu is so diverse in options, you may have trouble choose which appetizer/entrée/dessert to order. But don't worry, the portions aren't huge, so you won't leave feeling over-stuffed or feel the need to share.  And don't forget to try one of their specialty drinks.  The Skipper Canteen is the definition of Disney Imagineering and that is why it deserves our number one spot!